BABY AND CHILD

Physically, a baby or child is still Weak. and passing through the phase of rapid adaptation With his or her new environment. Babies and children nebd to adapt, to be loved and to feel the warmth of love all around them. The importance of this growth process cannot be underestimated and loving care begins with;
Delicate Massage Oil

Perfected with temulawak (Curcuma xanthorrhiza Rhizome extract), cajuput,sweet fennek coconut and olive oils, this , massage oil keeps baby's belly healthy, relaxes the muscles and improves blood circulation maintaining the body's warmth.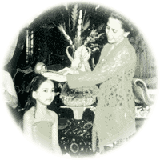 Delicate Soap

This gentle transparent soap Contains temulawak extract (Curcuma xanthorrhiza Rhizome)and keeps the skin smooth and healthy. Sweet fennel oil helps firm up the muscles, stimulate nerve endings P and enhance overall heal'th and
well-being.
Growing Syrup

Contains natura! and nutritious temulawak extract (Curcuma xanthorriza Rhizome extract) which increases the appetite and aids digestron. Childrenwill love the fruity flavor.