TEENAGER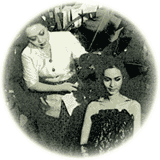 At this phase in the Life cycle, the hormones begin to determine the form and texture of the body, particularly in females. Breasts begin to develop, menstruation is experienced for the firsttime and the sebaceous gland becomes active, Acne caused by the over active production of sebum is the primary concern of teens in general. Care for a growing body begins with:
Innocence Cooling Mask
This uniquecooling mask contains essence of TurmenG and mild lemon oil to cool and soften the skin while neutralizing excess natural facial oils. The refreshingfragrance revitalizes the mind and calms the spirit.
Innocence Cleanser and Toner
This special formula containing extract Turmeric refreshe and cools facial skin while the mild lemon oil cleanses the skin leaving it soft without drying. Young skin will look radiant and vital.
Innocence Soap

This gentle transparent soap containing natural Turmeric extract and lemon oil brings balance to the activities of the sebaceous gland and'makes the skin smooth and fresh. Its lemon aroma inspires clarity of thought and spirit.
Innocence Caplet

These all natural caplets treat the problem of facial blemishes form within, helping to'dehydrate pimples, prevent scarring and minimize existing blemishes. Teenage skin can be smdoth and soft again.